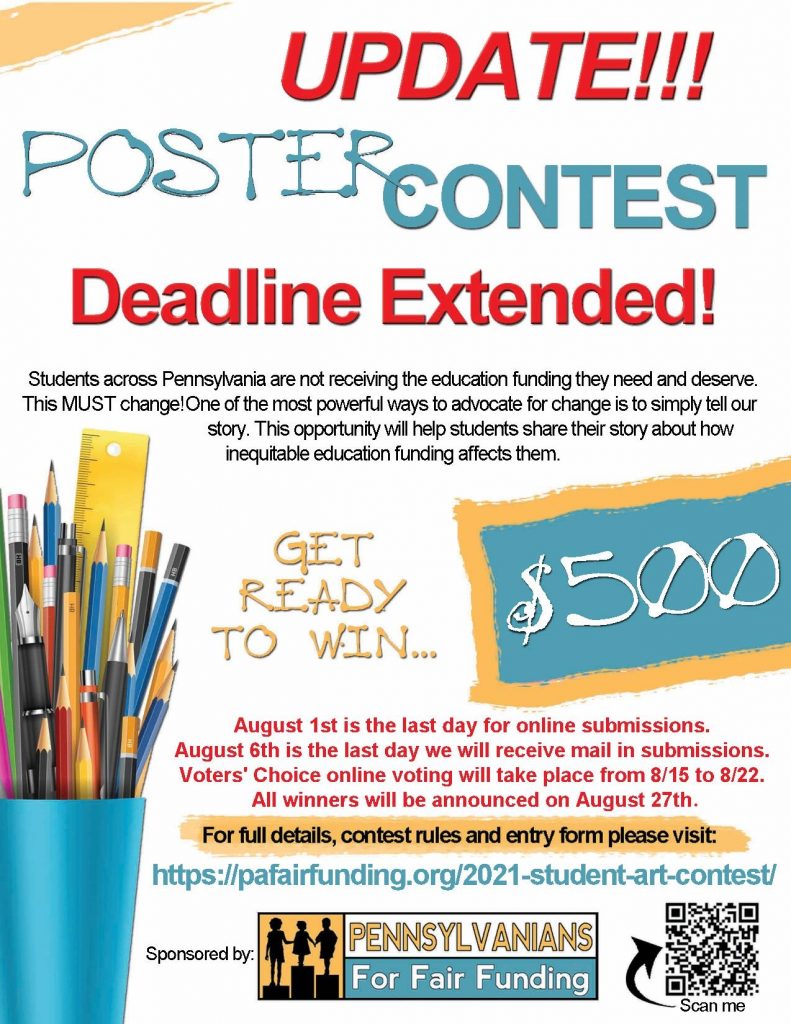 Art Contest Deadline Extension!

The last day for online submissions is August 1st and for mail-in submissions is August 6th.
Voters' Choice online voting will take place from August 15th-22nd.
All winners will be announced on August 27th.

Please note: The artwork must be related to the fair funding issue.
The artwork must be made by the student.
————————————————–
Students across Pennsylvania are not receiving the education funding they need and deserve. This MUST change.
One of the most powerful ways to advocate for change is to simply tell our story. This art contest will help students share their personal perspective about how inequitable education funding harms them.
Calling All Artists!
Contestants in Upper Elementary, Middle, and High School can submit artwork that calls attention to the educational inequities they are facing.
Age brackets: 3rd-5th grade, 6-8th grade, 9-12th grade.
Prizes: 1st and 2nd place will be determined by judges and a Voter's Choice award will be determined by online votes. Each age bracket will have a 1st, 2nd, and Voters' Choice winner. Prizes will be be $500 for 1st place, $300 for 2nd, and $300 for Voter's Choice.
Dates: Update! Art Contest Deadline Extension!

The contest will be open for entries from April 8th-30th. If you email your entry, it must be received by April 30th. If you mail your entry, they must arrive no later than May 7th. Deadline was extended.
Submit Digitally: Either email to pafairfunding@gmail.com or fill out this form by April 30th August 1st.
Submit by Mail: Mail to 554 Belmont St, Pottstown, PA 19464. Entry must arrive no later than May 7th. August 6th. An email to pafairfunding@gmail.com or by submitting this form indicating a submission is in the mail must be received by April 30th .
Judging: The panel of judges, composed of artists from around the state, will judge on the week of May 9-15. The Art will be on display online and able to be voted for the Voters Choice Award between May 9-20 August 15th-22nd.

Winners: Will be announced on Saturday, May 21st August 27th. The announcement will be made here on our website and our social media pages.
Helpful Questions
As you prepare to express your story through art, here are some questions to get you going:
How does the lack of fair funding impact your life? Large class sizes? Lack of opportunities such as AP courses, foreign language, or other programming? Few guidance counselors? Inadequate or unsafe building conditions?
How does being shortchanged make you feel? What is the message you are getting when the state consistently shortchanges you and your peers?
Support this Contest
If you would like to make a donation for the Art Contest Prizes or to help in the fight for Fair Funding Equity: